22.06.2017
New brand presence for intact's glucose product portfolio
The glucose brand intact kicks off the summer with a new and very expressive design. Many people know the brand from their childhood - round, fruity glucose tablets from intact, that you get in pharmacies. With its new design presence, intact wants to make itself known as a brand, appeal to new target groups and thus strengthen its market position. The lively design of the 16 flavour range was realised by the Hamburg agency HAJOK Design. The new design will gradually replace the old product range in the months to come.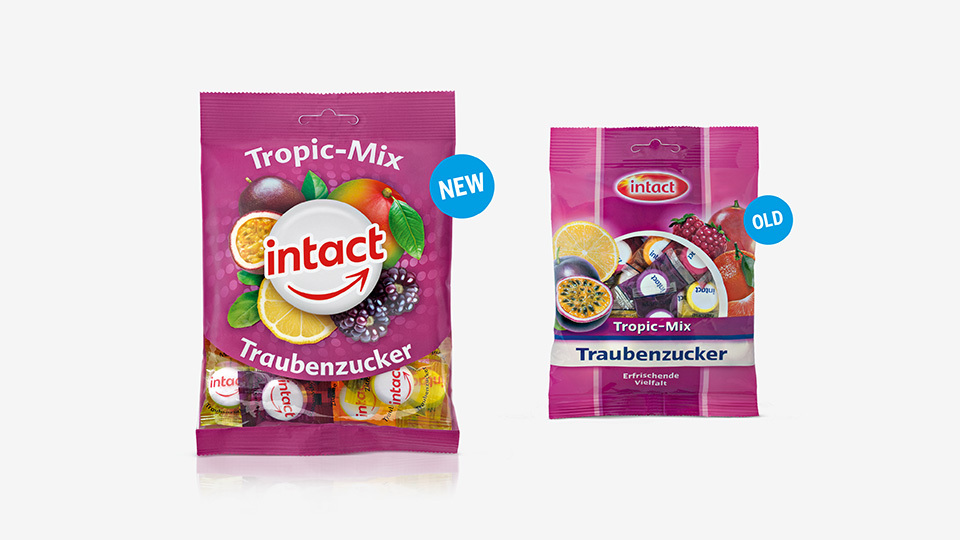 © HAJOK Design: the intact glucose tablet flowpack – new vs. old design

The aim of the relaunch was to strengthen the intact brand with a distinct, modern identity. The benefits of glucose, its taste and effect were to be highlighted. The new packaging design strongly focuses on these aspects, where colourful fruit illustrations visualise the different flavours. The new logo, developed by HAJOK Design, is easy to remember and appealing, reflecting the mouth-watering taste of the products. This is how the glucose range from intact presents itself with strong branding and a contemporary, colorful design, now available at Germany's pharmacies.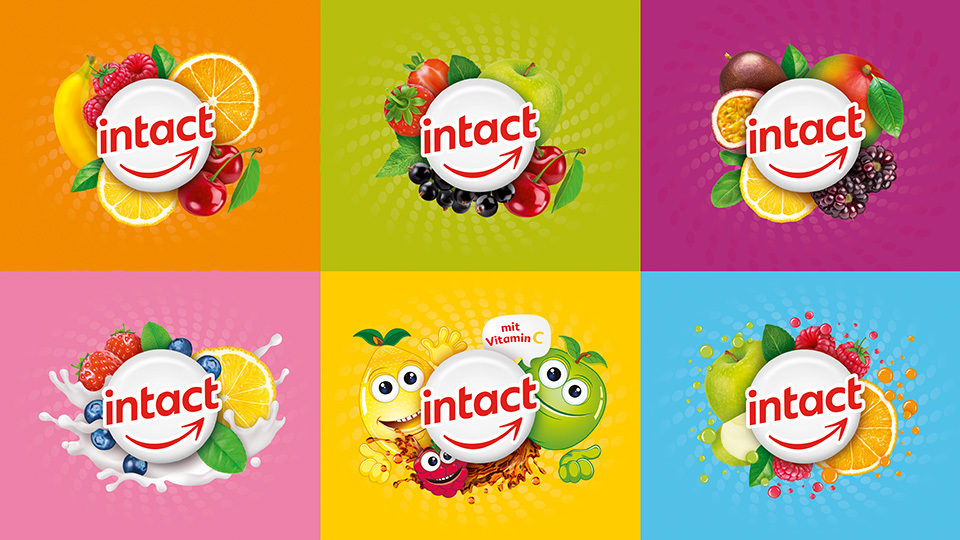 © HAJOK Design: range differentiation with new high impact logo 

Concept and design of intact's new brand presence was realised at HAJOK Design by the team led by Creative Director Madeleine Weiss and Senior Consultant Nele Mielmann.
intact
For the last 65 years, the intact brand has stood for high-quality glucose products which feature in a pharmacy's impulse purchase range. The products are exclusively sold in pharmacies nationwide. With almost 60% market share, intact is the market leader for glucose products sold in pharmacies (IMS, glucose category sold in pharmacies / Turnover MAT 09/16). This glucose classic by intact, which dissolves on your tongue and which most consumers have been familiar with since their childhood, first hit the market in 1956. Over time, the range has grown to include numerous flavours and packaging formats. The typical distinguishing feature of the brand since its inception are still the colourful twist wrap rolls and small flowpacks.