26.02.2018
New Look for the range of classic spreadable fats
Nordic, fresh and yummy – is how LÄTTA, the Swedish lifestyle brand now presents itself with its new design. Commissioned by Unilever, the Hamburg brand and design agency HAJOK has developed a new design for the whole range of classic spreadable fats. 

LÄTTA stands for modernity, lightness, quality and a fresh taste, targeting young women who prefer a light, delicious product.
In order to return to communicating the brand's positioning more strongly via the packaging, a modern design with a high level of appetite appeal was to be developed, while at the same time ensuring brand recognition. Along with the development of the packaging design, the recipes were refined. LÄTTA Extra Fit now contains 30% more buttermilk and LÄTTA Joghurt 30% more yogurt.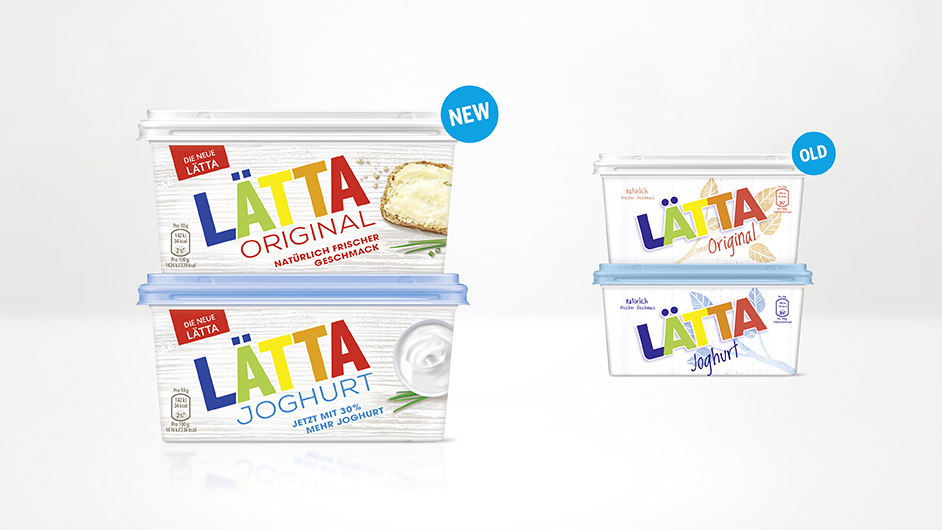 © HAJOK Design: New versus old design

LÄTTA's new brand design is truly convincing with clarity of the visual language combined with Swedish coolness. "We have propelled the brand right up to here and today, creating a well-structured, confident design. The logo is leaner and more contemporary; the typography on-pack is clear and concise. What's new are the delicious, natural food shots on a white, wooden background which reminds us of a Swedish interior", explains Madeleine Weiss, Creative Director at HAJOK Design.
Alongside the relaunch of the core range, HAJOK has already developed a new premium range for the brand, which includes to date LÄTTA Skyr and LÄTTA Butter variants.