12.09.2022
Red Dot for HAJOK Design
Brand and packaging design agency HAJOK has won yet another award! The packaging design for the Melitta Manufaktur Bremen coffee range has received a 2022 Red Dot Award for Brands & Communication Design.
Melitta Manufaktur Bremen, founded in 2020, roasts green coffees from small plantations and cooperatives. Traditional craftsmanship, high quality and a passion for select coffee varieties characterise the new Melitta brand. HAJOK Design developed a packaging design that communicates the origin and individuality of each individual product by applying a premium look with great attention to detail. A strong, unifying design element guarantees a high level of recognition across the whole range.
Each regional variety tells its own unique story with animal illustrations and geographical coordinates of the countries of origin. The intense, deep colours and the breaks in the font used in the variants' names are unusual and very self-confident. The 500g packs feature soft colour hues and a minimalist rendition of a coffee plant. "The highly aesthetic touch of neon colour creates a real wow effect in contrast to the otherwise rather reserved-looking world of high-quality coffees. In addition, the colour creates a very effective visual element that unifies the different product lines" says Jannika Plaas, Design Director at HAJOK.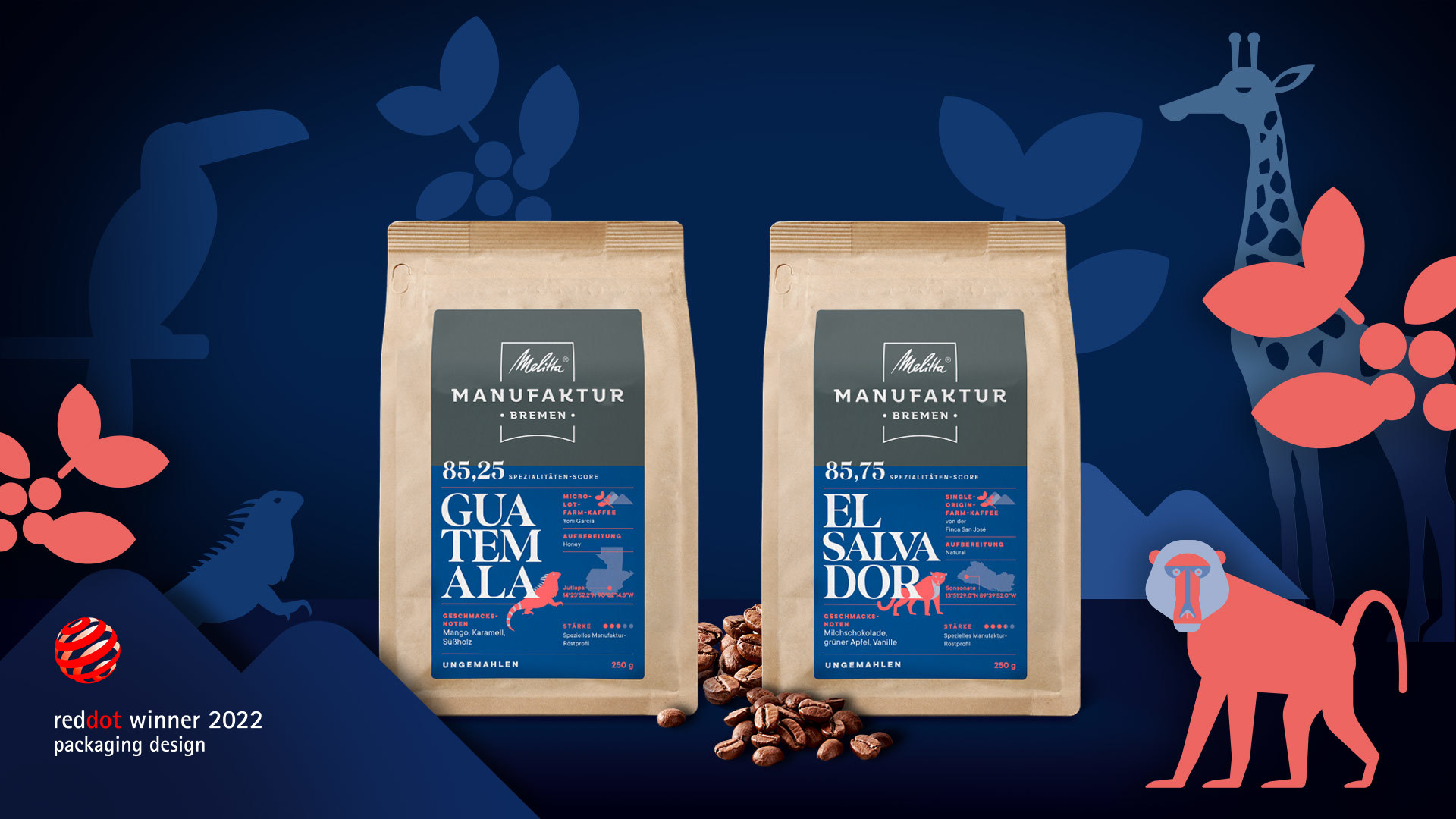 © HAJOK: HAJOK's bold, high quality packaging design won over the Red Dot jury.

"It was important for us that the packaging reflects the quality of our specialty coffees. At the same time, the product concept with its various facets had to be conveyed in the best possible way. Each of our coffees has its own character and is made by hand in our roasting house with a great deal of love and dedication. This passion and the uniqueness of each product had to be visible on-pack. Clearly and comprehensibly integrating information relevant to the target group was also essential. The result is a fun design that succeeds in every respect – we are really looking forward to seeing it on the supermarket shelf very soon," says Andrea Mohr, Head of Product Management at Melitta's coffee division.
Red Dot Design Award
The Red Dot Award is one of the largest and most renowned design competitions in the world, with more than 18,000 annual entries from designers, companies and organisations from over 70 countries. The Red Dot Label has established itself internationally as one of the most coveted seals of quality for good design. Due to the challenge of professionally judging the sheer diversity of design entries, the award is divided into three disciplines: Product Design, Brands & Communication Design, and Design Concept. Each of these competitions is held once a year.
For more information, please visit: https://www.red-dot.org/award.