27.04.2023
"There have been important milestones, both big and small"
Twenty-five years ago, Klaus P. Hajok took the plunge and set himself up in business, founding his agency. Time to glance back at the past, but also into the future of packaging design.
neue verpackung: Mr. Hajok, after you established your agency, you quickly specialised in packaging design – was this due to a personal passion, or was it project-driven?
Klaus P. Hajok: I was employed as an art director in my last job at a packaging design agency, where I was able to gain a lot of experience. Despite all my enthusiasm for branding and packaging design, it was nearly impossible at the beginning to get an appointment at large companies or corporations as a one-man band, let alone get an assignment. Luckily for me, a Unilever manager I knew asked if I would be interested in a small project. That was the initial spark and Unilever has been an important customer for us now for over 25 years!
neue verpackung: You started off in 1997 as a one-man show. 25 years later, the agency has become a one-stop shop for packaging design with 45 employees. What have been the most important milestones from way back then up to now?
Klaus P. Hajok: There have been important milestones both big and small. We set up our final artwork department in 2012 when we gained Globus as a major client. In 2018, our in-house photo studio was added as part of the rollout of the European Knorr portfolio with over 2,000 products. Then we expanded our strategic services including naming in 2019. However, it's not just the milestones that have enabled us to progress, but having the right mindset to achieve milestones.
neue verpackung: What developments have had the greatest impact on packaging design over the past 25 years? And was there perhaps an innovation that, in your opinion, failed to gain acceptance without good reason?
Klaus P. Hajok: There have been many developments, fashions and trends, but overall the importance of packaging as the "last seller on the shelf" has become increasingly important. It has to communicate more and more information and take on holistic tasks. Packaging should look great, be perfect to use – both as part of the supply chain and in the home – while leaving the smallest possible ecological footprint. It's these constantly increasing demands that make our work so exciting. Today we are able to develop designs that in the past often fell victim to clients' lack of courage.
HAJOK Design is giving itself a special gift on its anniversary: from the initial idea through to the naming, design, final artwork, print preparation and labelling, the agency's very own #stillthirsty gin project was realised completely in-house.

neue verpackung: Ms. Lindner, in addition to design, you are also passionate about psychology and sustainability – good prerequisites for dealing with the tricky task of developing sustainable packaging that is also recognised as such at the POS...
Madeleine Lindner: Since the topic of sustainability in its entirety is enormously complex, we can become quickly overwhelmed and find ourselves incapable of making decisions. Who, on the spur of the moment, would be able to answer whether paper, as a renewable raw material, is more sustainable than reusable monoplastic packaging? Consumers should not have to ask themselves this question standing in front of the supermarket shelf. There must be no doubt that the product the shopper is holding in his or her hands is sustainable, regardless of whether it is made of paper or plastic. We achieve this by concentrating on one or two aspects of sustainability, since people are creatures of habit and want to make things easy for themselves. Most consumers are looking for a good compromise to avoid having a guilty conscience. As packaging designers, we can utilise certain trigger elements to appeal to sustainability-conscious consumers. Which elements we specifically deploy depends, among other things, on the target group as well as the competitive environment. It's important that the brand honours the promise of sustainability and does not mislead consumers.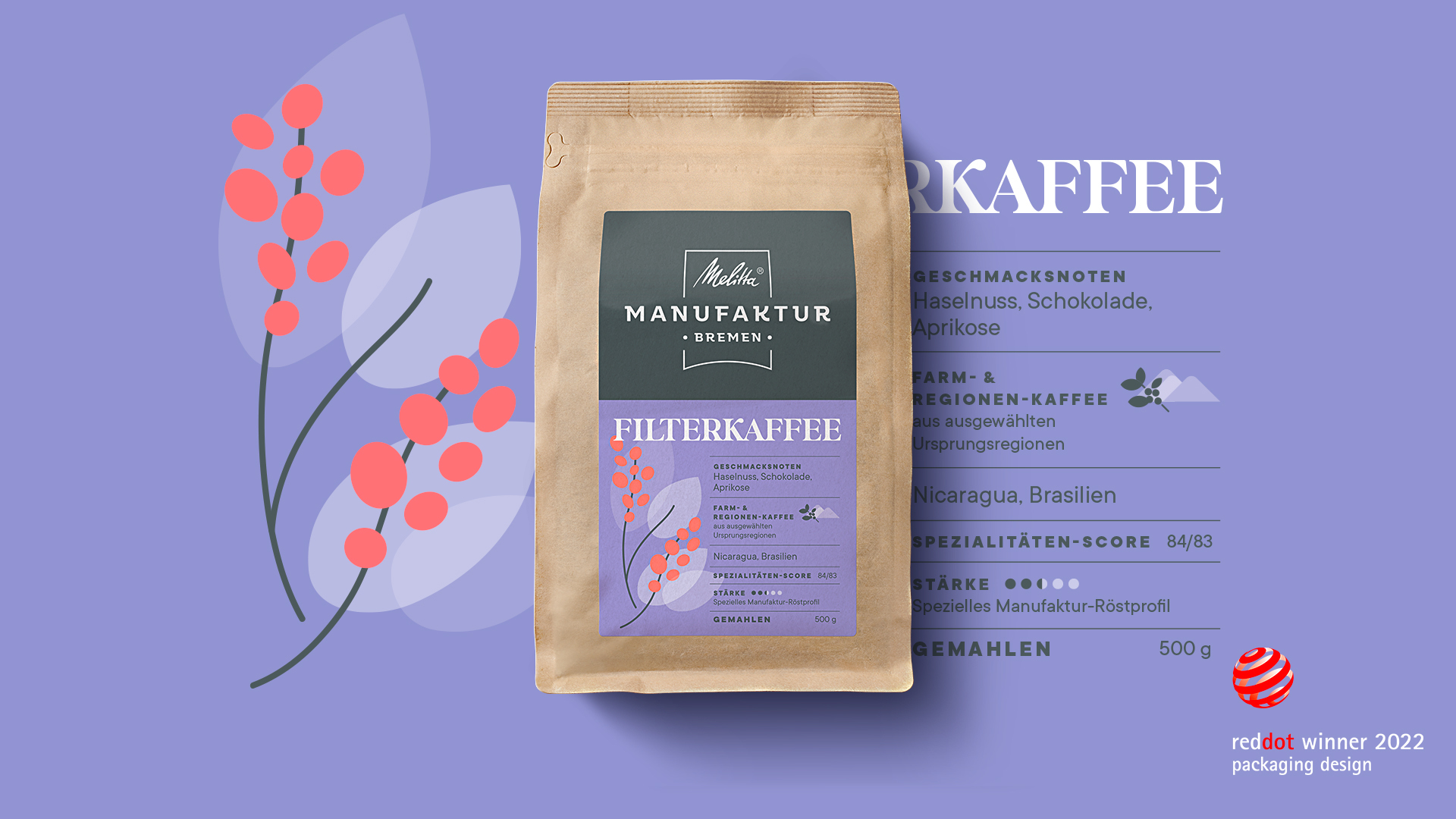 In 2022 Hajok Design won the Red Dot Award for the design launch of Melitta Manufaktur's three new coffee ranges.

neue verpackung: High energy prices, inflation, etc. – consumer purchasing power has declined and probably will not recover any time soon. Has this affected packaging design, are your clients now increasingly asking for cost-efficient solutions?
Klaus P. Hajok: Occasionally we are required to reuse existing photos or illustrations, or projects are put on hold for the time being. The packaging industry has been working on increasingly effective solutions for cost reasons for years, which is why there is often little savings potential. Even if we find ourselves in some kind of permanent crisis, consumers are still making demands on packaging design and quality.
neue verpackung: In addition to the long-running topic of sustainability – what else do you think will shape packaging design in the coming years?
Klaus P. Hajok: In the future, everyday items in the FMCG category will also be purchased online in the DACH region. In many parts of the world, such as the UK, considerably more purchases are made using smartphones and this is already influencing packaging design. Furthermore, complete recycling of packaging materials where possible will be of vital importance. We will still see a lot of plastic being used, but recycling will continue to increase. The introduction of alternative and new materials will in turn also have an impact on the design.
This interview was conducted by Philip Bittermann, editor-in-chief of the German trade magazine neue verpackung