23.02.2023
Interview with our managing directors
As a rule, a brand and design agency develops the strategy, the naming, packaging design & co. for its clients and their products. However, it rarely happens that an agency develops its own product including the liquid contents. HAJOK Design from Hamburg has done just that. The 25th anniversary of the agency was an opportunity to create the #stillthirsty special edition gin. From the idea to the naming, the design, the final artwork, the printing and the labelling, everything in this project was entirely in the hands of the HAJOK team. The gin is distilled at Elmendorf, Hamburg's oldest distillery. Based on the origin of the agency's two managing directors Madeleine Lindner and Klaus P. Hajok, South African rooibos and pine needles from Baden-Württemberg are two of the ten botanical ingredients.

In the following interview, creative director Madeleine Lindner and founder Klaus P. Hajok explain how the product, the name and the design came about. They also reveal why they are already thinking about creating a second edition of the gin.
A design agency that creates its own gin. How did this happen?
Madeleine Lindner: We have long been tempted by the challenge of putting all our expertise and passion into a project that has a lot of creative freedom. We wanted to celebrate our anniversary with something close to our hearts, something that would make us proud. We work hard and are very focussed on what we do, but we also like to party hard, too! This is how the idea came about to develop and design a gin ourselves.
Klaus P. Hajok: Of course, having the freedom to do your own project for your own use opens up completely new possibilities! We could do whatever we wanted and didn't have to worry about size, appetite appeal or shelf-impact or anything like that. Designing the gin has given us and the team a real treat with a unique flavour that also looks as good as it tastes.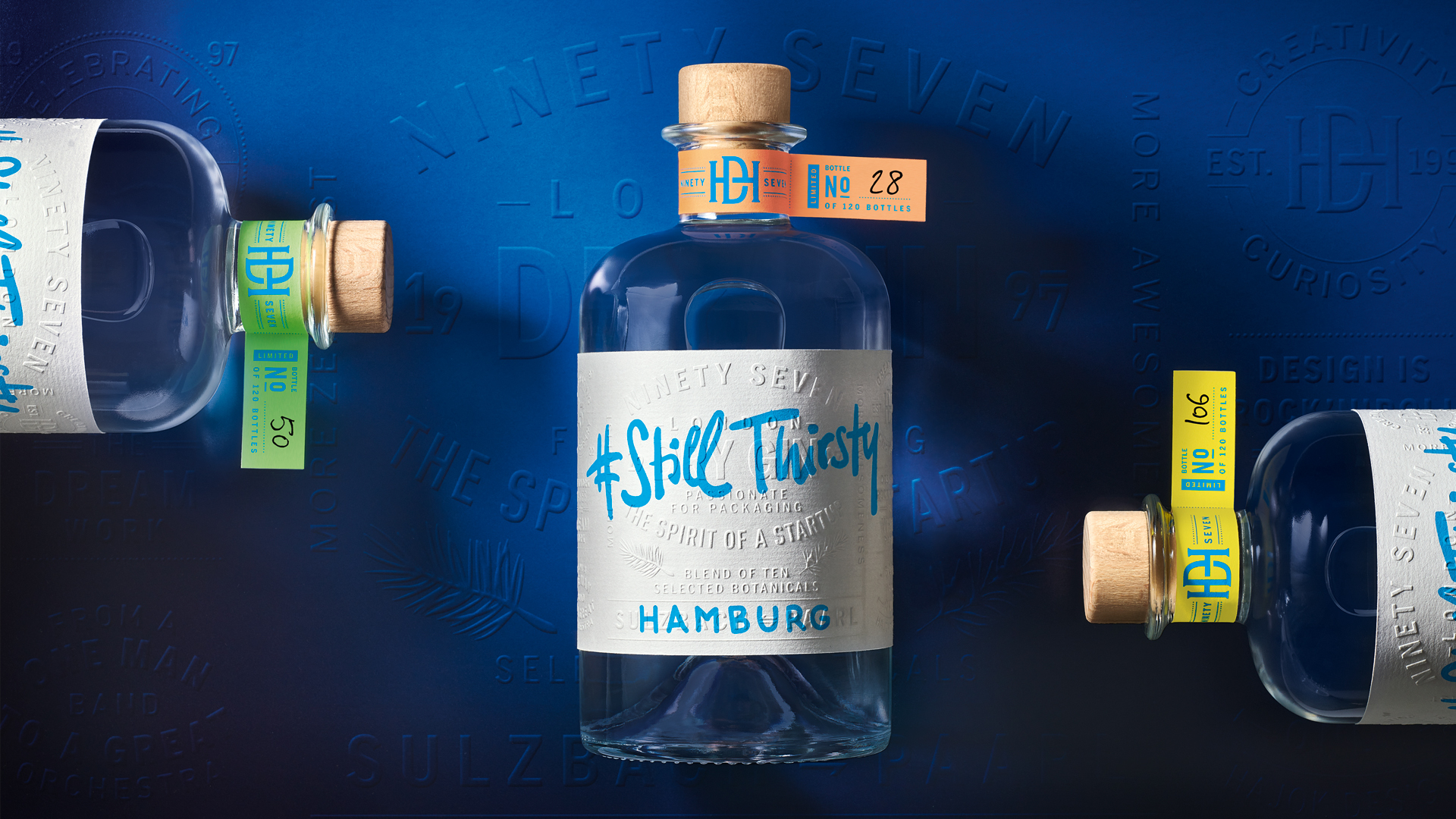 Your agency motto is "Design is like rock 'n' roll on a white sheet of paper". Is #stillthirsty rock 'n' roll in a glass?

Madeleine Lindner: Absolutely! From a musical point of view, rock 'n' roll is an expression of playfulness and considerable expertise – only when you really know and have mastered your craft can you playfully challenge conventions with ease to create something new. Rock 'n' roll is "thinking outside the box" – it's the approach we applied to our gin.
We are a team of very different characters who complement each other perfectly, so the character of the gin had to have a maverick touch, be expressive and harmonious at the same time. Klaus comes from the densely forested region of southern Germany, I'm from South Africa. Letting the rooibos dance with the spruce in the glass was exactly the kind of challenge that we also love from a design perspective!
Klaus P. Hajok: #stillthirsty says it all. Even after 25 years of success in the industry, we love what we do and are still thirsty for new challenges! Rock 'n' roll on a white sheet of paper stands for the delight of creating something new in an unusual way. We are like a band that is constantly reinventing itself. And that's a lot of fun!
What's the #stillthirsty name all about?

Madeleine Lindner: It expresses our still "thirsty for more" attitude. Our agency may have been around for a quarter of a century, but that doesn't mean we've become lethargic. We love the challenges that come with constantly changing tasks and we are very agile in adapting to new projects.
Klaus P. Hajok: #stillthirsty only becomes complete with "The Spirit of a Start-up" wordplay on the label. We have the right spirit in us and it's something we relish. There is still more that we can achieve, we are still thirsty for success!
You work together with the Elmendorf distillery. Why did you choose this distillery to make your gin?
Madeleine Lindner: I live near the distillery and was curious about it. One day I just walked into the shop which features this amazing copper-coloured still. It came up in the conversation that you can create your own gin in workshops there. Since we were looking for something special for our 25th anniversary, with which to express all of our expertise, the idea of creating our own gin was born.
Klaus P. Hajok: When Madeleine approached me with the idea, I was interested right away! When I got to know Kai Elmendorf personally, it was clear: let's do this together! Everything is individual, made by hand with a lot of passion and it's very personal. It's an approach that just fits!
What taste profile does #stillthirsty have?
Madeleine Lindner: When you smell it, it has a lemon and fir tree fragrance – an exciting mixture. When you drink it, you can sense a hint of rooibos, which is evocative of the dry expanses of South Africa.
Klaus P. Hajok: I like to smell it neat, but I think it tastes best on the rocks with some tonic and a splash of lime.
In addition to the rooibos, nine other selected botanical ingredients give your gin its very own character. Which did you pick?
Klaus P. Hajok: In addition to rooibos, our #stillthirsty gin contains the following botanical ingredients: juniper, spruce needles, angelica root, lemon peel, apple mint, cardamom, lime peel, apple pieces and thyme. It's the spruce needles and rooibos that make it so unique.

Of course, #stillthirsty is also visually very striking. What was the design philosophy?

Madeleine Lindner: It's a very complex design. We wanted to use the traditional features of classic alcohol labels to show that we know what we are doing. At our agency we really have a pool of the best in the business and we wanted to give these people the opportunity to apply all their expertise and passion to the project.
It's in our DNA to question what we do yet also challenge the tasks that we are set – this helps us achieve the best possible result. We are often the fire fighters who are called in when other agencies fail. The self-confidence that comes from this is also evident in Klaus Hajok's handwriting, which is expressive and present.
Klaus P. Hajok: As a designer, I was delighted by the design development process in the team. We had developed many ideas and concepts before picking this one. It's emotional, yet pared-down and pure. When contrasting elements are skilfully combined, something impressive can happen in the truest sense of the word. For example, most of the label is not printed but embossed.
What has feedback about the look and taste been like so far?
Madeleine Lindner: Wow!
Klaus P. Hajok: Feedback has only been very positive. Both at the agency and beyond.
Can you buy the gin?
Madeleine Lindner: It's not available for purchase, it's exclusively for colleagues and selected clients.
Klaus P. Hajok: Due to the great interest in the gin, we are actually considering whether we should release another edition.
Is there a perfect way to serve #stillthirsty?
Madeleine Lindner: Personally, I prefer to drink our gin with a neutral tonic, this helps the taste fully develop. Not too sweet, add ice cubes and you're done.
Klaus P. Hajok: At our two 25th anniversary parties, we had different bartenders who in addition to serving classic on-the-rocks versions with tonic and lime they also tried out their own distinctive ideas. And what can I say, I really enjoyed them all!
What famous person would you like to treat to a glass of #stillthirsty? And why?
Madeleine Lindner: Marina Abramovic – I find her "The artist is present" work incredibly exciting. Quietly drinking a #stillthirsty with her could be an interesting experience!
Klaus P. Hajok: Heinz Stücke may not be what you'd call world famous. But he has travelled the world by bicycle 51 years in a row and seen every country on earth. His concept of life is a journey and I'd find his passing review on his travels – over a glass or two of #stillthirsty very interesting!
Published on: about-drinks