02.08.2016
HAJOK Design creates new special editions for Tempo
Looking back to a long tradition and a distinct image, Tempo is Germany's market leader when it comes to tissues. By defining the motto "With you for life" Tempo positions itself very close to the consumers' lifestyle and provides the right tissue for each everyday life situation by constantly launching new designs and innovations. Around this slogan Hajok Design, a German packaging agency based in Hamburg, regularly develops special editions for Tempo. As of now the new editions "Best Wishes" and "Style" are available in the German retail.
The ,Best Wishes' special edition addresses the consumer directly. Bright colours in combination with illustrations and positive statements like " Enjoy your day" or " Get well soon " are dominant elements and make each package an eye-catcher.The 'Style' special edition deals with femininity and plays with the theme of a lady's handbag as a motive of outer packaging. Inspired by the world of fashion, each pack has an expressive individual design.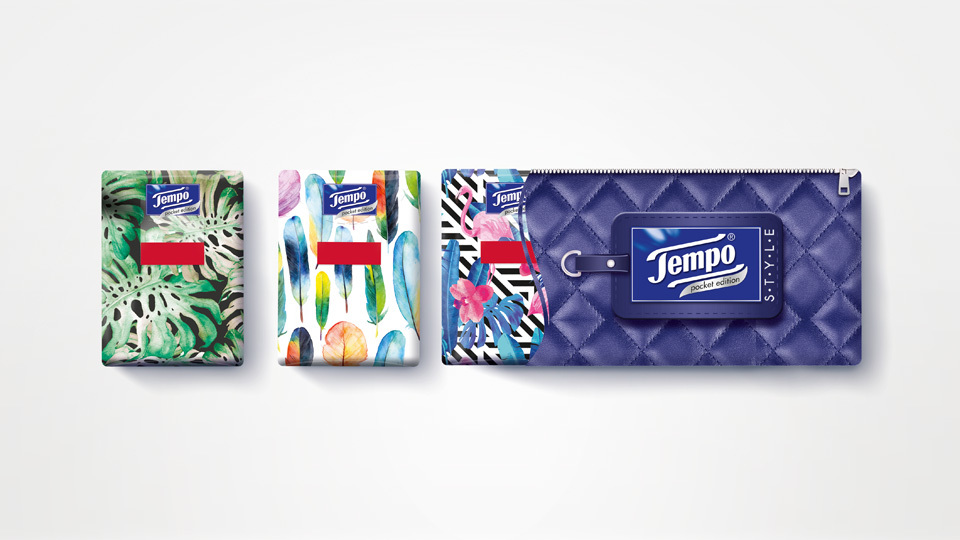 © HAJOK Design: Special Edition "Style"

"With our creativity and conceptual thinking we look for relevant topics and awesome concepts. A sense for trends and detailed competitive analysis are of course essential. We love doing research and find inspiration everywhere: when travelling, in art or in personal life.  Inspired by a broad pool of ideas, we constantly develop special editions in accordance with the current zeitgeist," says Ina Graeven, Creative Director at HAJOK Design.

Besides the special editions for soft packs HAJOK Design creates regularly design editions for Tempo boxes.
"We are excited to work with the HAJOK team. They know how to present zeitgeist topics in an inspiring way and how to translate them into strong selling design concepts," comments Svenja Gutzke, Marketing Manager, Tempo Central Europe.